Quality is the Minimum Expectation of Your Client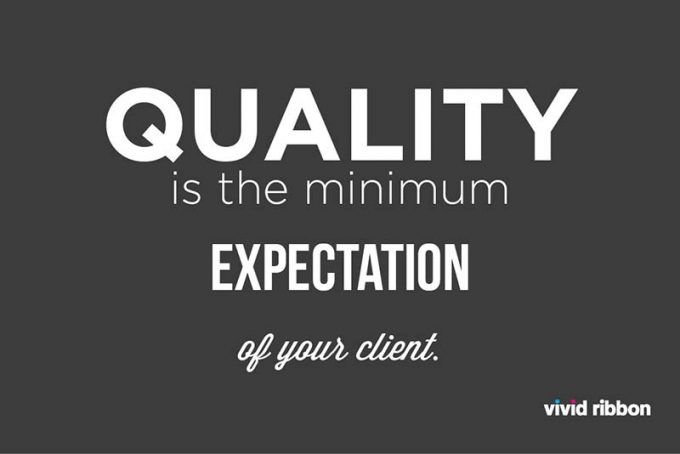 In September 2016, I had been asked to photograph a fairly large event for the Faculty of Science at the University of Alberta. Because they enjoyed the quality of our work and how easy it was to work with us for that event, Vivid Ribbon's contact was passed along to another faculty member who was interested in having me photograph another event in November. When I showed up to the event in November, it was very nice to be greeted by members of their staff, who had a lot of praise for the previous work we submitted. They all mentioned that they loved the photos, particularly how I was able to capture the right moments and how the photos told the story of how the events of the evening unfolded. One thing that was surprising to hear from a few members of their staff was how pleased they were to receive the edited photos so fast. For Vivid Ribbon, our usual turnaround time is about 1 week after the event and sometimes we can deliver sooner based on the arrangement we have with the client. With how many of the staff at the U of A who mentioned how pleased they were with our turnaround time with their photos, it told me that they were used to working with photographers who would deliver the edited photos much later than a week. After speaking with other clients about their previous experience with photographers they've worked with, I've heard date ranges for turnaround with minimum 3 weeks to over a month, with one person I met who had to ask their photographer for the photos up to 7 months after!
All of this got me thinking and now is a great time to share some thoughts with you about hiring a photographer based off of my own experience as well as hearing the stories of other people.
Quality is the minimum expectation of a client. No one ever says, "I want to hire you because your photography is crap." Everyone who is looking for a photographer to work with will, on the most part, review the photographer's portfolio and they will be able to judge and decide whether or not the photographer will be able to produce the kind of results the client is looking for. The problem is: there's lots of photographers out there. Just because a photographer is able to produce the kind of work you're looking for, it doesn't mean they are the right fit. Let's say that you have two photographers that you're trying to decide on working with. Both have very impressive portfolios so you know that they can do the job. Both offer rates that are similar.
No one ever says, "I want to hire you because your photography is crap."
The questions you should be asking yourself are:
a) How do you feel about this person? Will they be able to get along with the other parties that are involved in this project or will personalities collide? How is their approach to the project – are they collaborative and willing to take direction or do they only want to do it their way? You are hiring this person to work for you and therefore, they should be collaborative and willing to take the direction you and your team have set out. [ Before Vivid Ribbon started, I worked in the sales and customer service industry for over 15 years. I understand from a business relationship perspective that people like to work with people they like. There's no way someone is going to hire you if you've got an ego that is beyond this world. You've probably heard the old saying that people don't buy something because of the company, they buy something because of you, the representative.  To the client, you are the face of your company and how your prospective clients perceive you will make a significant impact on whether or not they will choose to work with you. ]
b) Has the photographer outlined the expectations that you can expect should you choose to work with them? This shows professionalism and ensures satisfaction and that everything is transparent from the beginning. [ In the quoting stage, Vivid Ribbon always provides details on confirmation of the date of the photography, the start and end time for event photography, the rate, how many edited photos will be supplied, any additional charges like overtime fees, usage policies, retouching policies, deposit policy, how the photos will be delivered and when the client can expect them by. ]
c) Value. Value doesn't always mean rates or prices. It means what else does the photographer bring to the table that could add value to your company or the project. Can the photographer shoot more than one style of photos? For example, if you've hired them for interior photography, do they have the skill to take headshots of your team or product shots that will all go on your website? This is important because if the photographer you're planning to hire only does one kind of photography such as interiors, that would mean that you need to interview another set of photographers just to take headshots for your company, which means the whole process will take longer and will take up more of your time.
[ Prior to going full-time with Vivid Ribbon, I worked in Marketing for an international company and I was responsible for product launches, advertising, and communication. In addition to this, my business partner, Allison and I, went to school for Business. We understand that the photography is only one component of a marketing project. Because of this, we don't like to drag out how long we can turnaround photos to our client. We understand that the sooner we deliver the final edited photos, the sooner our clients can get moving on the next steps to however they are planning to use the photos. Whether they'll be used in advertisements or on social media or on their website.
Vivid Ribbon has clients ranging in industries from A-Z. We shoot commercial photography, products, interiors, events, headshots etc. We also do portraits, lifestyle and fitness photography. Because our experience has been obtained by working with clients across many different industries, we've been able to develop our skills to be able to offer a wide range of categories and styles. We knew this would provide value to our clients because from a branding and marketing perspective, working with Vivid Ribbon to shoot a few different categories such as interiors, product shots, and headshots, would not only mean that you don't need to bring in 3 different photographers (that may or may not work out), it also means that we can provide a consistent style and apply the same type of look and feel in all of the photos. Your Marketing department will be happy with this! ]
d) The Customer Experience. We all know that everyone wants quality and at a great price. But why is it that you go back to a certain hair stylist all the time or why is it that people choose to buy a car at the dealership that they chose? If you're looking to buy a Honda, you could walk into any Honda dealership and tell the sales rep that you want to buy a car and they will get the paperwork started, no problem. But if you can get the same product almost anywhere, what are you really looking for? You're looking for the best Customer Experience. And the fact is, not everyone will be able to provide you with a great Customer Experience. And you'll know right away. When selecting a photographer to work with, in addition to quality, you should be looking at competitive rates, professionalism, how they can add value to your company or project, and how easy it is to work with them. This can all be summarized as the Customer Experience.
Because I've worked in the sales and customer service industry for over 15 years, with Marketing for 3 of those years, we fully understand and respect what our clients are looking for and we've built a great reputation in providing our clients with an exceptional Customer Experience in addition to quality. We hope this post helped give some insight as to the other areas that you may want to consider when looking to work with a photographer or any service. Please feel free to connect with us on your next project as we fully understand that quality is your minimum exception.

– Chan Rin, Partner & Director of Photography
Vivid Ribbon specializes in commercial, brand, lifestyle, event, and interior photography with a focus on helping brands through visual communication strategy. We produce visuals and creative artwork that are in alignment with our client's marketing and branding objectives. In addition, Vivid Ribbon also provides consulting services on branding and visual communication strategy.